Past Events
Events Search and Views Navigation
May 2019
Join us for a men's bible study every Wednesday morning from 6:15-7:30am at Hope Chapel in the third floor conference room. Email Daniel if you have any questions.
Find out more »
Join the Young Professional Women's Group for a firepit hangout and celebration of the end of the spring study during their monthly social gathering. Gather with other young professionals and connect intergenerationally as well. Email Sarah Reid with questions, as well as for location information. The Young Professional Women's Group also meets regularly for bible study and prayer on 5:30am two Fridays a month, monthly for a social gathering, and spontaneously for hikes, dinners out, concerts, coffee, etc.
Find out more »
June 2019
On the first Saturday of each month, we gather the entire congregation and then disperse to Serve Greensboro in different ways. Some of the areas include distributing food with Out of the Garden Project, cleaning and gardening at Hope Academy, serving at Grimsley HS and our neighboring apartments, and doing beautification around our campus so that we can continue to use it for the good of our city. Please RSVP to help us with planning and to have the best…
Find out more »
Moms, Dad, Kids of all ages - join us this summer for fun at the pool! All are invited to join and the cost is FREE, so bring a picnic and your friends! Dates are: June 6 & 2 July 5, 19, & 25 August 9 & 15 from 11am-2pm at Green Valley Pool. See you there! Email Betsy with questions.
Find out more »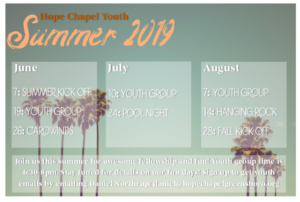 Join us in the youth room for a summer kickoff with games and fellowship. Email Daniel for more info and checkout our summer calendar (above) for more dates and events!
Find out more »
Come hear Jake Henry share a debrief on his time serving as an Army Chaplain in Afghanistan on Sunday night, June 9, from 5:30 until 7 in the Fellowship Hall. Bring your own dinner, and bring a friend! Childcare provided from ages 0-5.
Find out more »
Join us for a night of worship and restorative prayer in the sanctuary at 6:30pm.
Find out more »
+ Export Events